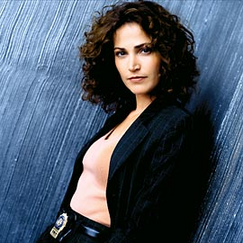 Diane Russell (Kim Delaney) was a police officer at the NYPD 15th Precinct. She was known for dating and later marrying Bobby Simone.
Career on NYPD Blue
Edit
Diane went through numerous personal problems during her time on the show. She struggled with alcoholism which she later overcame with the help of Andy Sipowicz and Bobby's support. Diane later revealed to Bobby that she was molested by her dad when she was a child. She dealt with domestic violence in her parents' marriage and later her dad's death at the hands of her mother.
Diane was pregnant, but suffered a miscarriage. In the 5th season, Diane and Bobby married, but not long after they married, Bobby suffered a heart infection and died from complications of a failed heart transplant. After Bobby died, Diane started a destructive relationship with Bobby's replacement, Detective Danny Sorenson.
Eventually, Diane had to leave the police department after realizing she's not over her husband's death. During Diane's brief return it was revealed after her compassionate leave, she had been assigned to the sex crimes unit. Diane's return to the 15th Precinct Squad wasn't as smooth as it might have been.
When Diane's behavior became questionable, Connie suspected that she was drinking again which caused friction between her and Andy when he got beat up trying to stop a bar fight started over her. The two women reconciled the next day, and Diane confided that she had been drinking because she discovered a lump in her breast, and her family has a history of breast cancer. Connie promised her support.
Fortunately, the lump wasn't cancerous, and Diane later returned back to the Sex Crimes unit after they successfully apprehended their subject.